I know many people will disagree with me, but, like 2017, I found 2018 to be a fairly weak year for GREAT films. Certainly nothing like 2016, which was sort of miraculous and made selecting my Top Fifteen of that year very difficult. This year, strangely enough, television had many more creations worthy of the term "great" than film.
That said, of the 125 or so films I screened this year, there are certainly enough to fill out a Top Fifteen (and beyond). And there were even a couple docs that might have made my features list if I didn't already have a Top Five Docs in this post.
Anyway, here we go…
(to read my initial review, just click on a film's title if it's underlined)
TOP FIFTEEN FEATURES
15. Mission Impossible: Fallout (U.S.)
Directed by Christopher McQuarrie
Far and away the best action flick of the year, "MI6" was terrific. Three heists in one flick, good acting from all involved (except Mr. Hammer, of course – oy), and a terrific story that almost seemed believable, made for a fantastic two and a half hours of giddy fun! As I stated in my initial review, the MI series has completely overtaken the Bond films in terms of energy, excitement, action and joyful escapism. And while I understand why it didn't receive more kudos at awards time, it nonetheless easily leaps over several other terrific film to make my Top 15. Trailer here
14. Leave No Trace (U.S.)
Directed by Debra Granik

Other than a Spirit Awards nomination, this film was pretty much forgotten by all the biggies. Certainly not by people who saw it, however. This is a hidden gem of a film. Encapsulating the subtleties and seriousness of post-deployment PTSD to perfection, the film is really about love, family, and what it takes to heal or be a caretaker. And the ending is note perfect! Ben Foster and Thomasin McKenzie imbue their roles with grace and humanity, as do all the actors involved. It's a very small film about a very big issue told in a very real way. Lovely. (currently available on Amazon Prime) Trailer here
13. Isle of Dogs (U.S.)
Directed by Wes Anderson

Man, I loved this film. Beating out "Spider-Verse" as my only animated Top 15 entry by a smidge, "Isle of Dogs" features some of the great VO performances of the past several years from the entire cast (save one – the brutally miscast Great Gerwig). It's as bizarre as you would imagine, coming from Wes Anderson, but the film is still packed with heart and empathy. Of course, I'm a dog owner, so I may be biased. Still, if you can't find something to connect to in this film, then maybe have a drink? I've watched it five times now, and it still gets me to laugh and cry every time. (currently available on HBO and HBOGo) Trailer here
12. Black Panther (U.S.)
Directed by Ryan Coogler

Don't know what to say that I didn't in my review. This is a terrific action flick on its own, but when you add the cultural significance of its existence, budget, design and message, it puts it over the top. And Ludwig Gorannson's score is awesome (if not quite worthy of the Oscar it received, which should've gone to Britell's "Beale Street" score). It is also the only Marvel film I can think of with a message this important, lasting and applicable to our current culture: the difference between growing up in a first-world, self-reliant African nation versus surviving as an African-American. The dialogue between Boseman and Michael B. Jordan in the last quarter of the film is the deepest and most important in the Marvel universe by a Secovian mile. (currently available on Netflix) Trailer here
11. Woman At War (Iceland)
Directed by Benedikt Erlingsson
This fantastic comedy, with a purpose, is about as irreverent as it gets…at least as it relates to the narrative form. Revolving around an eco-warrior and the craziness of the Icelandic penal system, you'd be forgiven for rolling your eyes at the thought of it. But that'd be a huge mistake. This film is well-crafted, superbly acted, and hilarious pretty much from beginning to end. Short-listed for the Foreign Language Oscar, it's well worth the effort to find it, or catch it when it comes out on a streaming service (which it has not, as of yet). Unfortunately, when people hear a film is from Iceland, they tend to think of some Bergman-esque slow-burn drama. The last three Iceleandic films I saw were hilarious, including the brilliantly strange "Aquatic Effect". "Woman At War" is even better! Trailer here (although it captures none of the film's essence).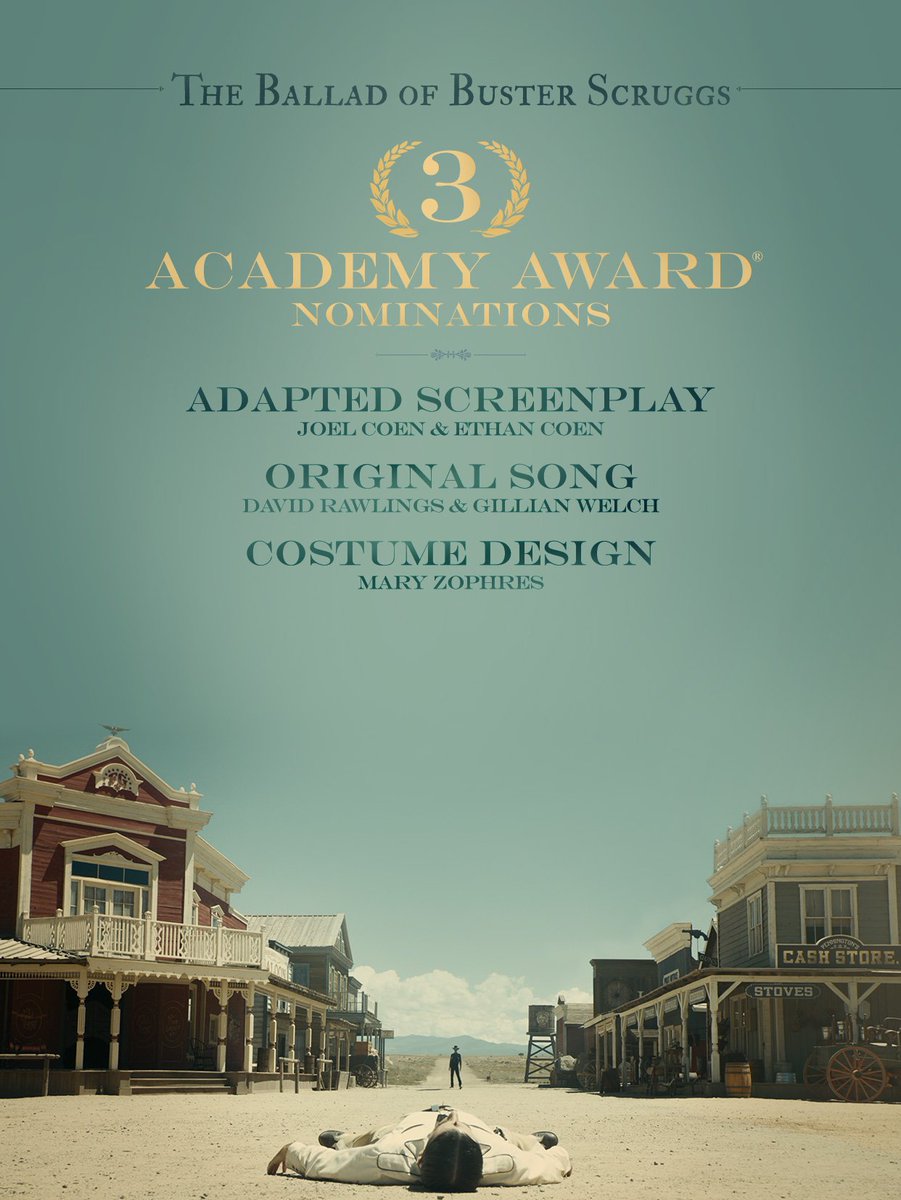 10a. The Sisters Brothers (France)
Directed by Jacques Audiard

10b. The Ballad of Buster Scruggs (U.S.)
Directed by Joel & Ethan Coen
A pair of brilliant Westerns both made my Top 15 this year and both fell in the same place…so I counted them as one. The Coen's "Scruggs" is a…Coen-esque anthology of western archetypes. And while there are a couple misses, the hits hit hard! Funny, sad, lonely, and always intriguing, you'll find that at least four or five of the chapters are very much to your liking. But really, it's about the Coen's eye for style that makes it so fascinating. Beautifully shot and perfectly cast in a way that marks all their films, "Scruggs", while not a masterpiece, is certainly a return to the greatness of their earlier films. Audiard's "Sisters Brothers" based on the book by Patrick DeWitt (who has a writing credit), is the better overall film. Strange and bizarre, it feels like a cross between the Coen's and John Ford. Its scope is epic, yet its feel is quiet, almost personal. John C. Reilly's performance is easily in the top five or six of 2018. He's amazing, as are Joaquin Phoenix, Riz Ahmed and a very different Jake Gyllenhall. It's gorgeous and Desplat's score is far better than his Oscar-nommed "Isle of Dogs" score. Do not miss it when it comes to a streaming service near you. (Sisters Brothers trailer here, Scruggs is on Netflix and you can watch the trailer here)
9. Volcano (Ukraine)
Directed by Roman Bondarchuk
This strange, melancholic, and contemplative, fish out of water comedy from Ukraine was one of my favorite films of this year's Chicago Film Fest. Picking up eighty or ninety years after a town is submerged for a hydro-electric dam, Bondarchuk's film is about the effects, ghosts and personalities of those who remained so many years after. And, yes, it's a comedy. It possesses a very human spirit while keeping you invested in its silliness. It's well acted, has great dialogue and is gorgeous to look at with incredible sweeping vistas of the Caspian Steppe. I have no idea how you will be able to see this. I do know it is to be officially released in its home country of Ukraine in April, so perhaps it will find its way to an art house near you this spring. I hope so. It's a gem. Trailer here
8. Dogman (Italy)
Directed by Matteo Garrone

Nominated for a BAFTA (and about a million other awards) and shortlisted for an Oscar, Dogman is a film that is not likely to leave you once you've seen it. The story is not so original, nor is its style. But the performance of Marcello Fonte, the local dog-groomer in a depressed seaside resort town, is other-worldly. Not that the rest of the film isn't superb. It is. But the manner in which he transforms is hypnotic, and real, and often funny. A brilliantly paced comic tragedy, this is a movie not to be missed. It's being released to art houses here on April 12th. Buy your tickets now. Trailer here
7. Widows (U.S.)
Directed by Steve McQueen
I know, I know. I've been railing at the world for not recognizing how brilliant this film is since it came out. Alas, its marketing push which portrayed it as an action-heist flick, ensured it would be dead on arrival. Calling "Widows" a heist-flick is like calling "Friday Night Lights" a football show. No, what makes "Widows" so brilliant is the dialogue, its performers and the stakes that exist throughout. Elizabeth Debicki gives the performance of a lifetime. The men, including Colin Farrell, Daniel Kaluuya, Brian Tyree Henry and Robert Duvall are incredible. And, Viola Davis, who is the true heir to Meryl Streep's "Best of the Best" Crown, plays the film's protagonist. Seriously, ignore everything you've seen in the commercials or trailers and watch this film, immediately. Trailer here
6. Death of Stalin (U.S.)
Directed by Armando Ianucci
Ianucci's first film since the BRILLIANT "In the Loop" is, without a doubt, the best comedy of the year. Adding a "Noises Off" farcical energy to a story of such historical significance is genius…topped only by his decision to have the brilliant English-speaking actors use their native accents. Buscemi, Palin, Jason Isaacs, Simon Russell Beale. It's relentlessly funny…and smart. Watch this trailer, or better yet, watch the movie, and tell me I'm wrong. (currently available on Showtime and ShowtimeAnytime)
5. The Captain (Germany)
Directed by Robert Schwenke
The second best German film of the year, "The Captain" is beyond captivating – let's go with chilling and bracing. Making use of black and white better than the far less complete "Cold War", "Der Hauptmann" is the best satirical look at the Second World War since "Catch 22". It is also one of the most horrifying and realistic looks at a dying and decaying Nazi Germany in the waning days of the conflict. Amazingly shot, acted to perfection and unflinching, "The Captain" is a tough watch, but ultimately, a necessary one. If "Never Look Away" weren't so fantastic, I would have been shocked this wasn't Germany's entry to the Oscars. The space between their quality is infinitesimal…they are both brilliant. (available to rent for streaming, and a bargain at $2.50 on Fandango) Trailer here
4. BlacKkKlansman (U.S.)
Directed by Spike Lee
The best Spike Lee film since…well…maybe ever. But even if I'm being less platitudinous, it certainly belongs in the same sentence with "Do the Right Thing", "X" and "25th Hour". It also happens to be his first film almost exclusively about the importance of alliances in the fight against all that 45 has unleashed in our country. There is no other film this year, feature or doc, that takes such a successfully broad comic premise and sucker-punches you with a right hook of reality along the way. Add to that terrific performances from everyone involved, especially Adam Driver, a super tight script, and a connection to our current shitty race relations, and you have required viewing. Trailer here
3. Never Look Away (Germany)
Directed by Florian Henckel von Donnersmarck
Many of you already know that von Donnersmarck's 2006 Oscar-winner, "the Live of Others" is quite firmly entrenched in my All-Time Top Ten. So it was with great trepidation that I sat down in my (brutally) uncomfortable seat at the Music Box, here in Chicago, for the three-hours that encompass his latest, the 2018 Oscar-nominated film, "Never Look Away". I needn't have worried. A sort of prequel to "The Lives of Others", this epic film about a German artist's life that spans German life from the horrors of Nazism, all the way through the building of the Berlin Wall, feels like it could have been created and produced by "Once Upon A Time In America"-era Sergio Leone. It encapsulates a time and world through the lens of just a handful of characters with great detail and purpose. Sure, there are one or two missteps along the way in terms of style. But emotionally, it never wavers in its fearless ability to stay connected to relationships, not events. The script is great, the casting is spot on and Max Richter's score is magical and every bit as great as his "Mary Queen of Scots" score is bad. This film will stay with me (and you) for a very long time. It may not be as tight or powerful as "Lives of Others", but it's really close! Trailer here
2. If Beale Street Could Talk (U.K.)
Directed by Barry Jenkins
Not so much a runner-up as a Part II to my two best films of the year, I remain utterly baffled as to how "If Beale Street Could Talk" failed to garner a Best Picture nomination. My previous review will go over each detail of why I thought it was so powerful, but in every area…acting, photography, script, emotional punch and score…"Beale Street" is perfectly crafted in service to James Baldwin's original text. And it is proof that Jenkins' signature style of severe and sustained close-ups is sustainable, affecting and hypnotic. He's a master director. Can't wait for what's next. Trailer here
1. Roma (Mexico)
Directed by Alfonso Quaron

First of all…Spielberg should just shut up. If Netflix is the only company to fully back the Coen's or Cuaron, then what are they supposed to do…say, "no thanks…Stephen Spielberg thinks that will cheapen the cinematic nature of it. I guess I'll just table my idea." Ugh. Secondly, I know many, many people think this film has no story, and is, therefore, too slow. But I disagree with the former and didn't at all mind the latter. Perhaps that's because of how much I love the rhythms of baseball. The slow, anticipatory inhale of the catcher throwing the ball to the pitcher, and the dramatic exhale of the pitch to the batter…and the emotional response of what occurs at the zenith of that throw. This is the best way I can think of to explain why "Roma" affected me so. Each long setup or shot is a winding up of the tension that leads directly to a burst of dramatic and affecting energy. However, I accept that most people prefer football or basketball…and thus found "Roma" too hard to focus on (re: boring)…especially if viewed on a television screen. But "Roma" IS a masterpiece of cinema, no matter how one gauges its energy levels. Each frame is so lovingly framed, shot and written…I was simply held in its spell the entire time. Just an amazing, amazing film. (it's currently available on Netflix…just ask Mr. Spielberg for his password) Trailer here
Honorable Mention:
American Animals (doc? not a doc? who knows?)

Blindspotting more impressive for its uniqueness than its quality)
Burning (another South Korean work of art)
Capernaum (bleaker than bleak, but you will leave the theater changed)
Deadpool 2 (not quite as funny or unique as 1, but still…)
Eighth Grade (one of the great scene-stealing performances ever by Jake Ryan)
The Favourite (number 16!)
First Reformed (hoo boy…this is a tough film, but well worth the effort)
Game Night (the best farce of the year by far)
Green Book (love or hate its message, it's still a pretty good yarn)
Little Tickles (A French first-person tale of overcoming child sexual abuse worth seeking out)
Road Not Taken (this great Chinese film is the best "on the road" film of the year)
Shoplifters (just this side of too precious to make my Top 15)
Spider-Man: Into the Spider-Verse (brilliant)
Stan and Ollie (John C. Reilly and Steve Coogan…come on)
A Star Is Born (a GREAT first hour…and then…)
The Stolen Carravagio (ANOTHER piece of brilliance from Roberto Ando!)
______________________________________________________________________
TOP FIVE DOCUMENTARIES
5. Minding the Gap (U.S.)
Directed by Bing Liu

What a delightful surprise this film was. I went in to all five of the Oscar-nommed docs with a chip on my shoulder since there were not one, but TWO films I felt were ridiculously left off the nomination list (#4 and #1 below). But "Minding the Gap" is a very dense, emotional yet subtle epic about nature versus nurture. And it's shot and unfurled with such a light touch that the heavy moments land with a powerful crack…and never a thud. And Liu's skateboard POV shots are incredible. As I said in my review, this is the film "Boyhood" wished it had been. Terrific. (Available to stream on Hulu) Trailer here
4. Won't You Be My Neighbor (US)
Morgan Neville
Well, if "Amy" won the Oscar, then I have no idea how "Neighbour" didn't even get a nomination. I suppose they thought there was only room for one personal profile doc on the list and gave it to "RGB". However, compared to the emotional power of "Neighbour", "RGB" feels like a by-the-numbers television profile. It's just not nearly as successful a film. In "Neighbor", Neville takes full advantage of how deeply ingrained our neuronal connections are to the empathic power of Fred Rogers. It's a three-tissue box film…and an easy add to my Top Five! (available to stream on HBO and HBO Now) Trailer here
3. Mr. Soul (U.S.)
Directed by Melissa Haizlip
Practically a sequel, to the wondrous "I Am Not Your Negro" (though certainly less creatively told), "Mr. Soul" explains the importance of Ellis Haislip, an unassuming PBS producer who became the unintended televised voice and visage of the civil rights movement via his public television series, "Soul!". Running from 1968-1973, "Soul!" featured discussions and performances by the foremost black thinkers, activists, writers, poets, musical artists and dancers…always with one goal in mind…being of, and for, a specifically African-American audience. Directed by his niece, and featuring over an hour of footage not seen since its original airing, it is a love story to the man and a stark examination of the times, while also reminding us the terrible lack of black representation in our current television environment, especially as it relates to showcasing black thought & emotion, and it's interconnection with creativity. This is a unique story, well told, that calls out to the best of what progressive, counter-culture thought and television can be. Trailer here
2. Free Solo (U.S.)
Directed by Jimmy Chin & Elizabeth Chai Vasarhelyi
Trailing only "Dunkirk" as films meant to be witnessed on a GIANT screen (and only on a giant screen), "Free Solo" is, without a doubt, the only film whose viewing should require a Xanax prescription. Although, to be fair, there are two stories of death-defying acts by the film's hero, Alex Honnold. One is, of course, his attempt at climbing Yosemite's El Capitan without a rope, the other is allowing himself to be in a loving relationship with one. And while the former is the reason you go to an IMAX theater to see it, the latter is what gives the film its increased stake and most of its heart. It's a lovely balancing act that takes it beyond one of the dozens of daredevil films "Red Bull" seemingly produces at will. Oh, that and Honnold is the anti-daredevil. He is borderline frustrating in his lack of outward testosterone…which is also what gives that other part of the story more depth. Regardless, without "Neighbor" or my #1 in the mix, this was a worthy winner for Best Doc at this year's Oscars. It also features the best score in a documentary this year from the brilliant Marco Beltrami. (available to stream on Hulu…but, really…unless you have a 75″ TV, get thee to a cinema!). Trailer here
1. Three Identical Strangers (U.S.)
Directed by Tim Wardle

Maybe my favorite film of the year in any category, "Three Identical Strangers" is never what you think it is for more than five minutes. This is a story of three identical triplets who accidentally find each other in 1980. But that's simply the first ten minutes of the film. Wardle has taken his initial premise and instead of making a film that fits it, he follows every crazy trail leading away from his thesis…even the smallest outcroppings are examined. And, in almost every case, those tiny pathways become massive parts of the story. It is exciting, shocking, heartbreaking and breathtaking. "Strangers" is EVERYTHING you hope for in a doc, or in any story told on celluloid. And, strange as it sounds when discussing a film about people becoming famous for simply existing, it should be seen on a big screen if possible, so you can understand just how bigger than life their fame was in that time period – before social media existed. But, that's a mere suggestion. This is a film to be watched, intently and with your phone turned off. (available to stream on Hulu) Trailer here but I'd be remiss if I let you watch it before you saw the film. The trailer gives away way too much!
Honorable Mention:
24 Frames
Bathtubs Over Broadway
Fahrenheit 11/9
Filmworker
McEnroe: Realm of Perfection
Riyuichi Sakamoto: Coda
Robin Williams: Come Inside My Mind
Scotty and the Secret History of Hollywood
Studio 54
______________________________________________________________________
BOTTOM TEN:
It's important to note that my Bottom Ten doesn't consist of the worst populist movies released this year…though I did see a all the Superhero flicks and most of the summer and holiday blockbusters. No, these are simply the worst films of the well over 100 films from 2018 I DID see (many of which were highly respected and/or well reviewed by others). The biggest news? For the first time since 2016, Matt Damon escapes the Bottom Ten (of course, he really didn't star in anything this year, so…). Thus without further ado, here are my picks for the ten worst films released in 2018:
10. Naples In Veils (Italy)
Directed by Ferzan Ozpetek

Ugh. This film. It so desperately wants to be an Italian "Body Double" that it's almost silly. Highly touted at this year's Chicago Film Fest, every frame of it drips with both incredulity and cinematic pretense. Even when we get to the looooooong-awaited conclusion of the film, Ozpetek hits us with one more nonsensical misdirect. If you like your romantic mysteries seeped in eye-rolling Hithcock-isms that have nothing to do with any sense of real interaction, than this is the flick for you! Trailer here (though I was so tempted to link you to the non-subtitled trailer – since it really wouldn't matter)
9. The Girl In the Spider's Web (Germany/Sweden/U.S.)
Directed by Fede Alvarez
English-speaking directors have yet to figure out how to tell this tale with a Lisbeth Santander we have even a modicum of concern for. Both Rooney Mara and Claire Foy play it all at such a high level of tension, it feels like we're watching a Predator alien…so deeply hidden is their response to the world they find themselves in. Also, it's just a really shitty action film. Everything is predictable, it's shot in such absolute Baltic darkness you can barely see anything, and…oh, why go on. Who cares. It's a mess. Well, there is some decent revenge violence, I suppose. And at least Sylvia Hoeks gives it her all as the antagonist. But even she ends up being dealt with via a shrug. Just…why? Did Ms. Foy need to get out from under QEII's shadow this badly? Trailer here
8. A Wrinkle In Time (U.S.)
Directed by Ava DuVernay
Okay…so I didn't read the book when I was a lad. That doesn't mean I don't know a good adaptation from a stinky one….especially as it relates to fantasy. So much of this film is spent on style decisions that the emotional ones get completely left behind. It's such a lost opportunity to tell a complex good vs. evil fable with a protagonist (and heroes) that aren't what Hollywood normally throws at us (re: white). I mean, man, is it dull…and crushingly lacking in tension, character development or stakes. <sigh> (available to stream on Netflix) Trailer here…oh, if only the film were as good as the trailer suggests!
7. Whitney
Directed by Kevin Macdonald
This exploitative and misguided bio-doc is simply a mess. And not a mess like Whitney's life, but a cinematic mess. I suppose it asks the question as to what went wrong in her life, but when it finally gets to the point ninety minutes later, it glosses over the biggest possible answer like it was nothing. In the interim there's an hour or so of voyeuristic home movies in which we see Whitney stumbling, slurring and yelling. The entire film, I kept asking myself, "who is the one who made all the money selling Whitney's soul to the highest doc director"? Oh, that question isn't answered either. How this film received a wide theatrical release is a statement of just how insatiable our appetite has become for witnessing the mighty at their worst. Listen, if a doc can illuminate, then I have no problem with exposing weaknesses. But if it's just for us to go "man, was she fucked up!"…no, thanks. That's what reality TV is for. (available to stream on Hulu) Trailer here
6. Entrepreneur (Finland)
Directed by Virpi Suutari
So, there's almost no chance of you seeing this, but that doesn't mean it doesn't belong here. This is the opposite of "Three Identical Strangers". In that film the director was confident enough to realize that his main idea was just a tiny piece of a puzzle and allowed the camera to tlead him. In "Entrepreneur", Ms. Suutari had this idea that comparing the smallest of village business owners (a butcher/traveling carnival owner) to a multi-million dollar startup (two women who are selling meat substitute) would be interesting in their differences. She's not wrong – it is a good idea. I stress the word, idea, because twenty minutes in you realize that the REAL story is this butcher and his family…especially the matriarch of the family. The screen crackles with energy in spite of the tedium of their day-to-day. It's interesting, illuminating and entertaining. The other side of the film? Not so much. Or, rather, at all. If the director had allowed what was right in front of her to inform her ultimate creation, she might have had a truly great film. Instead, she stuck to her guns, and, as a result, it's an aggravatingly dull experience – for half the time. Don't take my word for it…watch trailer…which parts are you intrigued by? Trailer here
5. The Seagull (U.S.)
Directed by Michael Mayer
I don't even know what to say about this utterly unwatchable adaptation of Chekhov's "The Seagull". It possesses a great cast, but they all seem to be in different films, or worse, in different productions of the play. Mayer seems to know that Checkhov wrote "Seagull" as a comedy, and yet, it's SOOOO boring. There are some good, even great, bits throughout, but the sum of the parts is… zzzzzzz…… Trailer here
4. Jurassic World: Fallen Kingdom (U.S.)
Directed by J.A. Bayona
I wonder what the pitch session for this film was like. I imagine it went something like this: "SO…what if we made a Jurassic Park movie with NO dinosaurs in the second or third act?! Oh…and a bunch of them die horrible, graphic deaths in the first?! But don't worry, we'll use the exact same dialogue from the last one so no one will notice!" I noticed. Oy vey. Trailer here
3. Aquaman (U.S.)
Directed by James Wan

Hoo boy. "Aquaman" is objectively terrible in every way…except visually, I suppose. But even then, its visuals are so absurdly over the top it has no connection to the "story". My most favorite ridiculous bit, though, occurs every time our lead has a Duane "The Rock" Johnson snappy comeback-ism. Apparently, since Jason Mamoa can't raise one eye-brow, the creators decided a stupid little recurring guitar riff would act as a sufficient substitute. It's cringe-inducing. As I watched, alone luckily, I beat the script to almost every line of dialogue – verbatim. It's that predictable. Even the "final battle" is brutally underwhelming. Oh…just FYI to DC, lighthouses haven't had human "keepers" in over forty years. And if you ever needed proof that the Rotten Tomatoes formula is deeply flawed, just know that it received a 67%. That mean TWO-THIRDS of all critics gave it a positive review. Meanwhile, an actual original and creative action film (albeit, not a very good one) like "Mortal Engines," got a 27% (which is maybe a little lower than it should have been…but understandable). I want to sit in a room with the 40% of critics who thought "Aquaman" was better than "Mortal Engines" and punch them in the face. Trailer here
2. Welcome To Marwen (U.S.)
Directed by Robert Zemeckis
Instead of telling you all just how misguided, manipulative and awful this movie is (and it is ALL those things), and how much it plays like a parody of a film – a la "Tropic Thunder", let me steer you to the original source material: the brilliant, moving and sensational "Marwencol" (2010) . It's available on Hoopla or Kanopy and is one of the great docs of this decade – lasting longer in esteem than any of the five doc Oscar nominees from that year.
1. Red Sparrow (U.S.)
Directed by Francis Lawrence
Ladies and gentlemen…I give you the worst film I saw this year. Misogynistic, mind-numbing, over-long, insipid, boring; these are just SOME of the adjectives that come to mind when I force myself to think about this piece of dreck. It's sensationally bad – unless you're a teenager who wants to see JLaw without her clothes on – for no purpose, by the way. Director Francis Lawrence went to the Paul Verhoeven School of the Gratuitous, apparently. In fact, "Red Sparrow" is so awful, it the most fun I had writing a review all year…which is a sign of just how bad a film it is. So…my favorite disastrous decision? All the Russian characters in the film speak in English…with bad Russian accents…to other Russian characters! That's right. And to make that even worse, every so often they utter an actual Russian phrase. Oof. As I wrote in my review, "I think the film was best summed up by the guy sitting in front of us at the theater, who, about midway through the un-ending second act, let out an uncontrollable, and CLEARLY audible, yawn. I wanted to give him a prize." Trailer here
______________________________________________________________________
So there you have it! On to 2019!