Mid-April, 2020. If you'll recall, the facebook was rife with lists. Lists of favorite films, TV, albums, baby names, ice cream flavors…it seemed in lieu of actual activity, folks instead went deep in to the crevasses of their brains that held on to the most important and affecting artistic bits. they'd come across. Amidst this backdrop, my dear friend, Lindsay Jones, took a more original challenge. He decided to showcase songs that were guaranteed to make him feel better amidst all the muck in our post-COVID existence. You can listen to his entire list here. Now, a couple of them were from film and TV scores. And so, I thought since my genre of choice is film/tv music, I could begin my own series showcasing a song from a film or TV score and for two months that's exactly what I did. They didn't all necessarily make me feel "better", but they did connect me to emotions that the film/show/song originally did. And while I might say these are my most listened-to scores, this is not a list of "the best" or even a Top Sixty list. Since most of you are not my Facebook friend, (or actually are but failed to get my post on your timeline), I figured I'd repeat them here. However, here I will give you not only links to the specific featured song from each score, but usually one or two more and a link to the entire score. I'll feature thirty-one scores here for October, and then, in November, I'll drop another thirty.
And if you're interested in film music, you must check out the fantastic 2017 documentary, "Score: A Film Music Documentary". It's on Hoopla.
Oh, and Black Lives Matter.
Click on the album cover images for the entire score (where attainable), and the song titles for the specific songs.
---
So the first one that came to mind was Nicholas Britell's totally underappreciated score to the 2018 film, "Vice". Of course, he also composed the Oscar-nommed score for "If Beale Street Could Talk" in that same year, and the movie, while good, had many flaws, so perhaps it's understandable. However, it is a brilliant collection of film music – evocative, hilarious and complex. The first cut, "Taking Over…" was made to be played loudly while driving, and, while it has little to do with the rest of the score, it will probably be one of the funkiest and happy-making on the list. The bonus offereing, "The Lineman", however, acts as the main theme of the score and carries with it the weight of the character the film hoped to encapsulate.
---
2a) Les Modernes
2b) La Valse Moderne
The Moderns (Mark Isham, 1988)
(not available to stream, so no link to the score as a whole)

Before Terrence Blanchard became the trumpet playing film composer that everyone loves, there was Mark Isham, a man who has composed music for well over 100 films and another 20 television shows. Today's choice is from one of his first (and best) scores. He wrote it for Alan Rudolph's terrific 1988 art-house drama, "The Moderns". I give you the main theme and a much more subtle chamber piece. But the whole score is well worth finding, even if neither the film nor the album are available to stream anywhere. I still have the DVD and album from years ago. We'll talk… Anyway, here's the opening title and a beautiful chamber piece that evokes the languid, and far away feel of the art scene in 1920's Paris.
---
3a) End Credits
3b) Money Montage
The Taking of Pelham 123 (David Shire, 1974)
(not available to stream, so no link to the score as a whole)
 Day #3 of film music that makes go "yay" (or something)! David Shire composed the score for the greatest NYC character films ever made, 1974's, "The Taking of Pelham One Two Three", which starred Walter Matthau and Robert Shaw, and sits squarely in my all-time Top Five (the less said about  the putrid 2009 remake with with Denzel and Travolta the better). Shire's score features very odd music, in fact, to craft it, Shire used all 12 notes in a scale within the basic melody without repeating any…which sounds like it would be awful, but it's brilliant, and funky, and awesome. I'm using the End Credits because they have a slightly different, and more single-like nature. And use headphones because the bass line from 1:50 until the end is AMAZING. As a bonus, I give you the epic "Money Montage". But really, the entire score, and, of course, the movie are sensational! Enjoy! You can rent the movie for $3 via streaming. It's one of the best things you'll watch this week…or month…or year…fuck it, EVER! Seriously…Walter Matthau, Robert Shaw, Jerry Stiller…come on!
---
4a) Hula Hoop
4b) Norville's End
Hudsucker Proxy (Carter Burwell/Aram Khachaturian, 1994)
My original offering was cheating, kind of. You see, for "The Hudsucker Proxy", Carter Burwell retooled a couple works of Aram Khachaturian to create the accompaniment for the centerpiece of the Coen Bros. film, the Hula Hoop scene, along with the film's title theme. If you've never seen the film, then yer crazy. But in case you haven't or won't, here's a link to the Hula Hoop scene. I add it because I associate this piece of music so much with the images that it's almost impossible not to experience them together. I should add that the rest of the score, which is all Burwell's creation, is utterly amazing on its own merits – as evidenced by the second linked piece, "Norville's End". You know, for kids!
---
5a) J'ai perdu mon corps
5b) Rosalie
I Lost My Body (Dan Levy, 2019)
For my fifth selection I chose something not very happy, but certainly that puts me squarely in a different place and time. It's the opening from a score for an Oscar-nommed animated film from this past year. No, not "Toy Story 4", not "Klaus", and not "How To Train Your Dragon" or "Missing Link" (although both have fantastic scores). NOPE! This one is called "I Lost My Body" and it's a great film. Truly great. And French. And on Netflix. And the only thing that matches its beautiful script is the beautiful music composed by Dan Levy (who had no major previous credits!). Watch it in its original French – not the dubbed English version. BTW, the movie is not for children. It is amazing and you will need tissues nearby, as I do every time I hear this music. So, here it is, the haunting, main theme from "J'ai Perdu Mon Corps". And as a bonus the intricate "Rosalie".
---
6a) Domestic Pressures
6b) Forces of Attraction
Theory of Everything  (Johann Johansson, 2014)
Ennio Morricone is known for creating themes for each character and each moment, all disparate and yet somehow connected. One of the few modern composers to master this was the great (and gone WAY too soon) Johann Johannson. His score for "The Theory of Everything" has so many incredible themes, it's impossible to delineate just one as a proper showcase for the whole. In fact, to this day, advertisers use knock-offs of music from this score all the time. When youngsters ask me to pick a single score as an example of how to combine subtlety and musicality, this is the score I go to. Here's the two best cuts: "Domestic Pressure" and "Forces of Attraction".
---
7a) Transformation
7b) Chants d'Auvergnes
New York: A Documentary Film (Brian Keane, 1999)
So when I initially did this on the facebook, every seventh day I chose a TV score. For the first, I set the way back machine to the late nineties. Ric Burns (Ken Burns' smarter brother) had made a nine-part documentary for "American Experience" about the history of New York City, called, strangely enough, "New York: A Documentary Film". Putting anything his younger brother ever did to shame, "New York" is extraordinary – smart, gorgeous, sad, addictive, universal and, thanks to Brian Keane, possesses the greatest documentary music score ever. Don't believe me? Here's the opening ten minutes of the first episode. Tell me you don't want to watch the whole thing after seeing it. It's available on amazon Prime. Anyhoo, the film's nine episodes were released over time, the first five airing in '99 and the next three scheduled to premier in late 2001. The first two aired as planned in October or that year, but Burns decided to start from scratch on the final episode as the 9/11 tragedy had just occurred. Two years later the final installment aired and has become one of the great documents about both the history and sociology of the Towers. Not so much a doc about what happened, but a loving obituary reaching all the way back to the very first imaginings of a World Trade Center.
I have watched all of its episodes at least a half dozen times. They feature hours of incredible music, most of it original and most of it composed by the great Brian Keane. However, the "Official Soundtrack" only featured a fraction of that music. So, not to be deterred, in 2003 I wrote to Mr. Keane and asked if there were any plans to release the entire score. He responded, that, no, there wasn't and I thanked him for his time and his incredible music. But soon thereafter, I received in the mail a package containing three CD's – which contained all the music he wrote for the film with a request that I do not duplicate or distribute that music. I've kept that promise…but have just discovered that he has made them all available to stream for free on his website! Click on the album cover! In the meantime, here is the foreboding "Transformation" and the gorgeous, "Chants d'Auvergnes". But if you go to Brian Keane's site, some of the highlights include the main themes of the show, "Trouble", and "City of Dreams" (disc 1). Also, "Black Theme" (disc 1), "Dark History Waltz" (disc 2), "New York Mystery", "Dark Building Theme" and "E Minor Latin (all disc 3)". And, of course, the incredible "Fall of the Towers" (disc 3).
---
8a) Addio a Cheyenne
8b) Once Upon A Time In the West (Opening)
8c) As A Judgement
Once Upon A Time In the West (Ennio Morricone, 1968)
Day #8 and yer thinking, "finally, some Morriconne." Yes, but I'll go with a them not nearly as ubiquitous as others either in this film, or  in his other Sergio Leone collaberations. "Addio Cheyenne", in the incredibly shot, conceived and performed, "Once Upon A Time in the West", belongs to Cheyenne, an outlaw in the West played by my namesake, Jason Robards. People forget how incredible he is in this film. While Eastwood and Bronson played Sergio Leone-penned characters as low-key or simmering, Robards was maybe the first Leone performer to actually seem…real…actually of this world. And this bit of music, to me, always fit him perfectly…and makes me whistle along every time I hear it. Here is "Addio To Cheyenne" by the maestro, Enno Morriconne, from the legendary, "Once Upon  A Time in the West". But because it would be foolish of me to leave any of it out, I've added the opening theme and Henry Fonda's theme music, "As A Judgement".
---
9a) Opening Theme
9b) Germination
Merry Christmas, Mr. Lawrence (Ryuichi Sakamoto, 1983)
This one is a no-brainer. Way back in 1983, my hero, David Bowie, starred in a "sequel" to "Lawrence of Arabia", directed by legendary Japanese director, Nagisa Ôshima. Ôshima decided to give both the lead antagonist role AND the job of composing the music to a member of a well-known (among those who enjoyed the genre) electronic music band, The Yellow Magic Orchestra. Of course, that man was Ryuichi Sakamoto, whom we now consider to be one of the greatest film composers ever, and who had NEVER ACTED IN A FILM BEFORE. The film isn't quite as successful as the score (though it is one of the earliest films with a semblance of homo-erotic themes), but that's mostly down to the score being so unbelievable. Here ya go, the opening theme from "Merry Christmas, Mr. Lawrence", and as a bonus, the mesmeric, "Germination".
---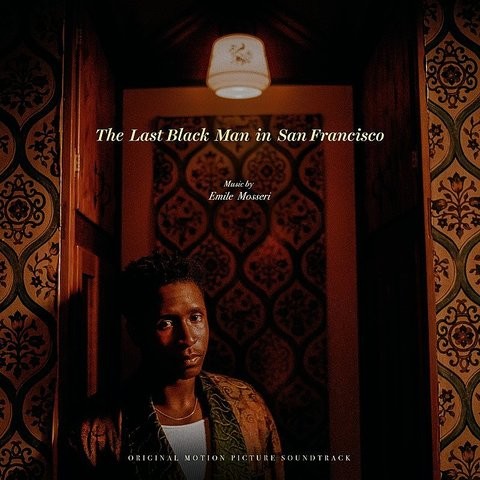 10a) Last Black Man in San Francisco
10b) King Jimmie
10c) Opening scene featuring "MGV 1st Region" by Michael Nyman
Last Black Man in San Francisco (Emil Mosseri, 2019)
Day #10. This film was in the Top Three of 2019 according to me, and I saw it on a PLANE (remember those?)! Emile Mosseri has written a rich, evocative score that perfectly adds to the aural experience of this amazing film, its amazing words and its amazing actors. I'll go with the cut named after the film, although it isn't the main theme, and the theme for the main character, but there's so much to choose from, so listen to the whole thing…and see the movie. Oh, btw, I'll also add the opening scene, the music of which Mosseri did not compose…that was written by Michael Nyman back in 1993.
---
11a) Do Your Thing
11b) Ellie's Theme
Shaft (Isaac Hayes, 1971)
It's more than likely you know this score for one song; the iconic Isaac Hayes' staple, "Theme from Shaft". But there are many nuggets of ultra-cool buried within this score (as there are in the handful of other film scores Hayes contributed to). And lucky for us, he continued to play these songs at his live shows for decades after. One of them, from his brilliant "Live at the Sahara" album, is my favorite piece of music from "Shaft". In fact, I was in an acid-jazz band (which lasted about a month), and this was one of the best songs we did. Here is the original film version of "Do Your Thing"…oh…it's twenty minutes long, it's all good, but the jam stuff later on in the cut is amazing, so put it on loud, and do the dishes…what else are you going to do right now? Oh, and I'll throw in the super-sexy, xylophone-heavy tune with a touch of Ennio feel, Ellie's Theme (which he also performed live on that same "Live at Sahara" record).
---
12) Proposal
Loving (David Wingo, 2016)
This lovely, brilliantly acted and shot 2016 film, which didn't get nearly as much loving as it should have, features a very laid back score that makes for great listening if you need something to write to, or to simply chill. But while it's mostly sound beds and long chords, within the context of the film, it perfectly fills the long wide shots of  empty skies in the deep South of the late '60's the movie inhabits. Not much else to say about it, so enjoy David Wingo's music from "Loving". Here's a piece called "Proposal"…
---
13a) L'au revoir
13b) The Baby
The Red Turtle (Laurent Perez del Mar, 2016)
Day 13's choice belongs to yet another Oscar-nominated animated film that you probably didn't see. "The Red Turtle" is a strange (and not altogether successful) film that features no dialogue. It is all visuals and music, and, to my mind, Laurent Perez del Mar's score is easily the best part of the film. Cello solos, a single soprano voice, and the kind of sweeping orchestral score that one doesn't hear much nowadays. The film is still worth viewing, but the feelings that are evoked come mostly from the auditory experience. Don't get me wrong, the animation is terrific. However, the story kinda falls apart at the end. Regardless, here is "L'au revoir", and as a bonus, "The Baby".
---
14) Black Sails Theme
Black Sails (Bear McReary, 2014)
Day #14…TV day. My ringtone has been unchanged for a few years now due to my love of a particular show and it's amazing theme song. Bear McReary used a hurdy gurdy – yes, a hurdy gurdy – to make this specific piece of music. And while in the wrong hands the audio output of a hurdy gurdy does resemble a wheezing strangled bagpipe. But the sound he gets from it is just cool as hell and absolutely fits the show. Imagine my glee when in the doc I mentioned in my opening comments, McReary actually plays this song on his hurdy gurdy. The show is great and the rest of the score is too. Anyhoo, here is the theme from "Black Sails". And to see a video of him recording it, just click here. It's kinda fascinating. The rest of the score is great as well, but, with a hurdy gurdy on every cut, it can be a little much to take.
---
15a) Agape
15b) Jezebel
If Beale Street Could Talk (Nicholas Britell, 2019)
Day #15 and it's a second dose of Nicholas Britell's 2019 work before we even get to Desplat or the Newmans. "If Beale Street Could Talk", was, to me, one of the most unsung movies of the decade. Impossibly not nominated for Best Picture or Director (even though it WAS nommed for this score and Adapted Screenplay and did garner a win for Ms. King), the film is just about perfect and gorgeous and heartbreaking. Further, it's shot in Barry Jenkins' style of extreme Leone-esque close ups…which makes you kinda tremble. But equally important, it features this music. Almost exclusively used as composer by Jenkins and Adam McKay's personal composer, Britell's just got that something…an ability to find the perfect phrase or theme…that completes an emotional response in a very intimate and deeply personal way. The star of the score is "Agape". And speaking of Leone, I can't help but notice a subtle homage to Morricone's "The Strong" from "The Good, The Bad and The Ugly" score, which I'll get to later in this post. There are also touches of Bernard Herrmann's "Taxi Driver" score (also, later). I've also included the other over-riding theme. "Jezebel", but listen to the whole thing…or better yet, watch the film. It's on Hulu.
---
16a) Mr. Moustafa
16b) M. Ivan
Grand Budapest Hotel (Alexandre Desplat, 2014)
FINALLY, Maestro Alexandre Desplat makes an appearance. This nugget of feel good comes from his Oscar-winning score for 2014's "The Grand Budapest Hotel". The man has quite literally hundreds of scores under his belt, with eleven Oscar nominations and two wins. Most recently, I loved his score for "Little Women". He has a gift for finding just the right tone. He, more than most other composers, isn't afraid to run away from his signature sound – if he even has one. As evidence (and we'll get it to it down the road) I give you the other score he was nominated for the same year he won the statuette for GBH, "The Imitation Game". It's completely different and the only clue it was written by the same person is simply how perfectly it works in context of the film. He's brilliant.  Here is the a perfect illustration of this score's intricacy and irreverence, "Mr. Moustafa". As a bonus, well, a different one, "M. Ivan". Have fun!
---
17a) End Credits
17b) Roland Jeep (Intro)
Land of Mine (Sune Martin, 2016)
So, every so often a foreign film crosses your path, long before the accolades brought you to it, and you get to scream about the film from the rooftops before most have had the opportunity to see it. And, naturally, a large percentage of what makes those films so special is the music. I wandered in to a screening of a Danish post-WWII film about the true meaning of empathy called "Land of Mine" a few years back. Since then, quite literally, not a day goes by when I don't think of the film or the music from it. Controversial as the following statement may be, I consider it to be the best film of the last decade. Sune Martin composed the music, and after years of people calling for it, the score was finally released last year. If I still used vinyl, I'd be on my fourth copy. Here is the music that accompanied the end credits (although the theme is used throughout) and the other major piece of music ("Roland Jeep"). Careful, these songs will stay in your brain for a while. But, hell, if it nudges you to shell out the four bucks to rent it online… mission accomplished!
---
18a) On Days Like These (sax version)
18b) Greensleeves and All That Jazz
The Italian Job (Quincy Jones, 1968)
Day #18 belongs to the incomparable Mr. Quincy Jones! He did the score for a little film in 1969 that you may have heard of – a heist/caper flick called "The Italian Job," starring a young Michael Caine ("you were only supposed to blow the bloody doors off!"). Do yourself a favor and watch it now! The score is tremendous, and sexy as hell…and strange…here's the non-vocal version of "On Days Like These" – the smooth saxy version. Put this on loudly, get your partner, hold them close, and dance like the world is ending tomorrow (I mean, it might actually be…). Also, I've added the only song you're likely to hear a song that features a clavinet as the lead instrument in a jazz tune, "Greensleeves and All That Jazz". That Quincy! So clever!
---
19a) Koyaanisqatsi (1982)
19b) Anthem Part 1 (1988)
19c) Definition (2002)
Qatsi Trilogy (Philip Glass, 1982, 1988, 2002)
It's time for some sonic, yet melodic repetition. This score is from a collection of film compositions that announced this man to the masses (outside of contemporary opera fans, that is) and kept him there. The work was a brilliant trio of docs, "Koyannisqatsi, "Powaqqatsi" and "Naqoyqatsi", which make up a kind of cinematic ballet in three acts, that director, Clifford Reggio, never received enough credit for. In fact I know at least three people who believe Philip Glass made these films, so intrinsic are his scores to our memory of them. Of course, Glass went on to create dozens of brilliant scores, symphonies, operas and other works – and inspire many, many more composers to utilize his style. First I present the elgiac drone of the first film's opening, which became Glass' cinematic calling card, "Koyaanisqatsi". Then "Anthem Part 1" from "Powaqqatsi" – and, yes, you've heard it before even if you don't associate it with this film. The theme at 2:00 is used everywhere! Finally, YoYo Ma's cello is the main element on Glass' score for the third chapter, "Naqoyqatsi", if a little less so on the track I've chosen, "Defintion".
---
20a) Love Theme For Nata
20b) Nuovo Cinema Paradiso
20c) Maturity
Cinema Paradiso (Ennio Morricone, 1988)
Day #20 and it's back to Maestro Morricone again and quite simply one of the greatest films about memory and emotion ever made. I think I can trace the roots of my desire to understand the art of film communication to the first time I saw "Cinema Paradiso". The film's finale, to the mind of the young person I was at the time, blatantly illustrated just how important these moving images were to accessing my feelings, to feel my feelings, to revel in those feelings, and ultimately, to understand them. I'm sure I'd noticed the power of the flickering lights before then, but this was the film that tied it all together. And so much of that is wrapped up in Morricone's music. Truly, as with all his scores, this one has so many themes to choose from, however, my fave is "Love Theme for Nata". But I'd be crazy not to include the film's most well known piece, the title track, "Nuovo Cinema Paradiso". To hell with it, let's add the amazing "Maturity" to the mix. Morricone, who even at 92 left us too soon, simply had a different kind of brain than the rest of us.
---
21a) Whirlwinds to the Endzone
21b) Up As She Rises
21c) West Side Rumble
21d) Ramblin' Man From Gramblin
Sam Spence (NFL Films, 1966-68)
Day #21. TV day. Back in the 60's and 70's, my brothers and I would religiously watch the only show that featured highlights from NFL games other than the ones in your own market. "This Week in the NFL" was fantastic, and offered some of the most memory-evoking music ever made. There are at least twenty themes that bring me right back to our home in West Hartford, CT, with our little black and white TV, where Sunday mornings consisted of Abbott and Colstello, followed by "This Week in the NFL" (with the dulcet tones of Pat Summerall), and then the Giants game (usually with the dulcet tones of Pat Summerall). I've chosen a few that possess some of the tastiest bass lines ever used alongside glockenspiels, twenty trombones and more melody-unison snare drum than anyone in a studio should have allowed and were written by Sam Spence (as were all the best ones). First up, the heady "Whirlwinds to the Endzone". Second is Spence's ode to the Drunken Sailor, "Up As She Rises". Then the gazillion-trombone melody of "West Side Rumble". Finally, the so of-its-time piece, it almost feels new, the Neal Hefti-esque "Ramblin' Man From Gramblin". For those of a certain age, prepare to be transformed back to the days of Nixon…which in comparison…
---
22a) The Night Window
22b) Come Back To Us
1917 (Thomas Newman, 2019)
Today we visit a composer whose work I haven't really enjoyed over the last several years. While there's NO denying his brilliance, I just thought he had become a bit lazy – all his scores, while very pretty, were sounding very much alike. His signature of pleasant soprano sax was so recognizable, it would take me out of the film when I heard it…instead of absorbing me in to it deeper. And then he wrote the music for this film…and specifically this scene. A scene so moving and so well shot, it evokes the days of David Lean. So, to my dear friend, school chum and colleague, Marjorie Harris Newman, this one's for you (and mall of us). Here's Thomas Newman's "The Night Window" from "1917". As a bonus I've added the beautiful, closing theme, "Come Back To Us" (cello solos always kill me).
---
23a) After the Carnage
23b) Betsy's Theme
Taxi Driver (Bernard Herrmann, 1976)
I know, I know, why don't I feature more of the classic American scores? Well, mostly because I don't ever listen to them on their own, or, more to the point, the films, while terrific, don't feature scores that stay with me on an emotional level, which is the best part of what film music evokes. That said, I could've picked any one of a number of Bernard Herrmann scores. And this is the score that puts me right back in its film. The brilliance of Herrmann is on display in my first choice – dissonant strings behind a Noir-esque proclamation on brass – perfectly depicting both the character and the New York City of the time. But also the Hitchcok-ian jabs of darkness accented by the harp strumming in the background amidst dramatic pauses…amazing. And, of course, the film's gorgeous and iconic ballad, "Betsy's Theme".
---
24a) Main Title & Yosemite Valley
24b) 7573′
Free Solo (Marco Beltrami, 2018)
One of the more nerve-wracking cinematic experiences of my life was seeing "Free Solo" on an IMAX screen. I don't particularly like heights, or nascent romantic relationships, and both were on full display in their truest and most terrifying forms in the film. So the fact that I even remembered the score as I left the theater is a small miracle. Marco Beltrami writes great stuff. His entire scores don't yet rise to the level of some of the more famous composers, mostly because he's not yet as adroit at taking disparate themes and connecting them musically. His score for "Free Solo" is no different. There are several moments that are brilliant, but they could easily be from different films. Regardless, the opening theme and the final exultant fanfare perfectly fill in the anxiety and release of each moment. So here they are, "Main Title & Yosemite Valley" with it's solo trombone evoking the majesty of El Cap, and then "7573′". Enjoy…and watch the film (Disney+ or Hulu)…with a Xanax. You'll need it.
---
25a) Portraits
25b) Kurt & Elisabeth
Never Look Away (Max Richter, 2018)
So two of my top five German films of all time (NONE of which are "Toni f*cking Erdmann") are directed by the same man who posseses maybe the most Python-esque name ever, Florian Henckel von Donnersmarck. He directed the incredible "The Lives of Others", which won the Foreign Language Oscar in 2006. And then the great (albeit not quite as great) "Never Look Away", which was nominated for an Oscar in 2019. And, not for nothing, he's only directed three features, so that's a pretty good average. One of the elements of "Never Look Away" that makes it stand out is its score, composed by Max Richter. Interestingly, he did two scores that year. One was terribly average ("Mary Queen of Scots") and the other was this and features a bunch of themes that fit and stick. Here's "Portraits", from the score of 2018's "Never Look Away". It fucking kills me everytime I hear it. And as a bonus, the quiet "Kurt and Elisabeth".
---
26a) Ecstasy of Gold
26b) The Strong
26c) The Trio
The Good, The Bad, & The Ugly (Ennio Morricone, 1966)
Day #26. Time for an obvious score with a song so ubiquitous, it's in several commercials and is used by Metallica as their pre-show music. The piece perfectly accompanies one of the great subversively anti-war bits of cinema ever to grace a pop-culture staple. A man runs through a cemetery, looking for the grave that contains a treasure trove of gold…and runs…and runs…past thousands of freshly dug graves. Amazing, amazing, amazing. The music is Ennio's "Ecstasy of Gold" (btw, if you're a true fan of the film, there is a pretty good doc on Netflix called "Sad Hill Unearthed", about the reclamation of that cemetery built as a set for the film – fifty years later). I also include two other pieces you may not know that are also amongst the treasure trove of aural delights in Ennio's score for Sergio Leone's best known film, "The Good, the Bad, and the Ugly"; "The Strong" and "The Trio". Or just watch the film again. It's a Civil War film about man's inhumanity to man, not a Western, per se. And since we're seconds away from our own civil war, might as well.
---
27a) The Mayor
27b) Theme from Magnum Force
27c) The Cop
Dirty Harry/Magnum Force (Lalo Schifrin, 1971, 1973)
Day #27 brings us to the great Lalo Schifren. Amongst the over 200 scores he composed, my favorites belong to a pair of films in a double feature my brother smuggled me in to when I was nine – two of the most violent films of the seventies, "Dirty Harry" back-to-back with "Magnum Force". Now, you could spend hours discussing whether it was appropriate for my 14-year-old brother to sneak me in, but he wanted to go and couldn't leave me at home. What choice did he have? As much as I loved those films, it was this short theme towards the end of "Dirty Harry" called "The Mayor" (which accompanies the removal of a lifeless body from a drainage ditch) that has always stuck with me. As a bonus, I'll throw in the much loved main theme from "Magnum Force", and the iconic ghost-like wail of "The Cop", also from "Magnum Force".
---
28a) Light of the Seven
28b) Needle
Game of Thrones (Ramin Djawadi, Season 6, 2016)
Day #28. TV day! Say what you will about its mess of a final season, prior to that, "Game of Thrones" was inarguably one of the all-time great TV dramas. And Ramin Djawadi's scores, written specifically for each season, have always been an underestimated piece of the Winter Yet to Come. This was not the case for the music written for the finale of Season 6, "The Winds of Winter" – considered by many to be the best episode of the show's entire run. The breathtaking opening ten miniutes of that episode is miraculously tied together by the simple repeating notes of a piano, slowly wending its way into a frenzy of organ, chorus and orchestra – like a forgotten epic Rick Wakeman album side – all while the stakes, fear and dread of what's happening onscreen swirl and confuse. It really is one of the most effective and affecting opening ten minutes of television. I love to play it really loud in the car. Listening to it again just now, I don't think I ever noticed how much the chorus at its entry point (4:45), counters itself with two neighboring notes sung together, one in key and the other just under, like the title instrument in "Man With the Harmonica" from Ennio's "Once Upon A Time in the West" score. In fact, the whole repetition of  "Seven" owes more than a little to that moment in Leone's epic tale. As a bonus I've added "Needle" from the same season because it evokes my favorite character on the show – hell, everybody's.
---
29a) Technically Missing
29b) Just Like You
Gone Girl (Trent Reznor and Atticus Ross, 2014)
Day # 29. Not much to say about this, other than I've really become a big fan of the multi-collaborations between Reznor and Ross when it comes to film music. This piece, from "Gone Girl" (which I didn't think was a very good film) gets a lot of play in my car when I'm driving. That's all. Nothing earth-shattering. Just good music that elevated the rest of the film. I will say you should listen with headphones. Their use of panning and signal separation is second to none. Here's Trent Reznor and Atticus Ross with "Techincally Missing". As a bonus, the lovely "Just Like You"
---
30a) Opening
30b) The Times
Carol (Carter Burwell, 2015)
Day #30. I know, I know…it's the THIRD Carter Burwell entry since this began. But this is NOT from a Coen Bros. flick. No, this is from his gorgeous score for "Carol", a superb, period film that evokes the equally brilliant and heartbreaking film, "A Single Man". Cate Blanchett is miraculous, it moves, and will crush you. And, yes, Burwell's score is amazing. While it's a little Glass-ian, it still has the most recognizable Burwell signature elements, like the glockenspiel and the deep, feel-it-in-your-balls, bass counterpart to the melody. Here's the Opening theme to get you going, and a variation on its theme with vibes, called "The Times".
---
31a) Riddle of the Model
31b) A Beautiful Sea
31c) Drive It Like You Stole It
Sing Street (John Carney & Gary Clark, 2016)
Day #31. Also, Halloween! There was a terrific tradition in Chicago back in the day…I'm sure in many cities…where all the bands in town would become another band for Halloween shows. For instance, I sat in with a country band that became Hall & Oates for a Halloween, playing the sax solo on "Maneater". So I thought what better soundtrack to shine a light on then one from a film that is all about paying tribute. It also happens to be from one of my two or three favorite films of the last ten years or so. Alas, it was recently turned in to a Broadway show that, apparently, had very little of the charm or innocence of the film. Shocking when considering how well the musical version of "Once" was (also from John Carney). Regardless, I've now watched this film about ten times… and just writing this is making me want to watch it again. So, here you go, hilarious and charming songs that send up Duran Duran, The Cure and Hall & Oates, respectively. If you've not seen this movie, do yourself a favor. We all need the insane smile this film puts on the face of everyone who sees it during these terrible days.
Thirty more coming on November 1st…