After last year, a year in which every nominated live action short was about something too horrible to fathom, we've been given very disparate in subject, yet equally poignant, films this year. And, strangely, two of the five take place in Tunisia. Yet, before you think this is simply a group of north African tales, the others take place in Guatemala, Belgium and New York City. And, for the first time in some time, I believe all of them are worthy of the nomination so if you have the opportunity to see them, I highly recommend doing so. I mention within each review which are available to stream right now.
---
Brotherhood (U.S./Tunisia)
Directed by Meryam Joobeur
The front-runner for the Oscar, "Brotherhood" examines the beliefs that repel or attract Muslims around the Arab world to fight with ISIS, and how those decisions effect even the smallest and far-flung family units. And if that seems like too big an issue to make a strong short out of, think again. In fact, by focusing on one twenty four hour period in the life of a family of herders, the film, in its twenty minutes successfully tackles the repercussions from within and without.
Thanks to the performance…and face…of Mohamed Grayaâ, a long-time character actor from Tunisia, all the context and background needed is there on the lines of his face and in the close ups of his dogged and searching eyes. There is also a wondrous and heartbreaking twenty seconds from teenager, Jasmin Lazid. And of course, a strong bond between the brothers (both in real life and in the film), Chaker, Malek and Rayene Mechergui. With their help, and some terrific work from cinematographer, Vincent Gonneville, director Meryam Joobeur has filled the film's twenty minutes with tension, love and dread. It's a special short that will stick with you long beyond your initial viewing. In fact, when I completed all five, I had it as my third or fourth best. But now, some seventy-two hours later, I cannot get its final scene out of my head. An extremely powerful film for such a closed environment.
Available with English subtitles here on Vimeo.
---
Nefta Football Club (France)
Directed by Yves Piat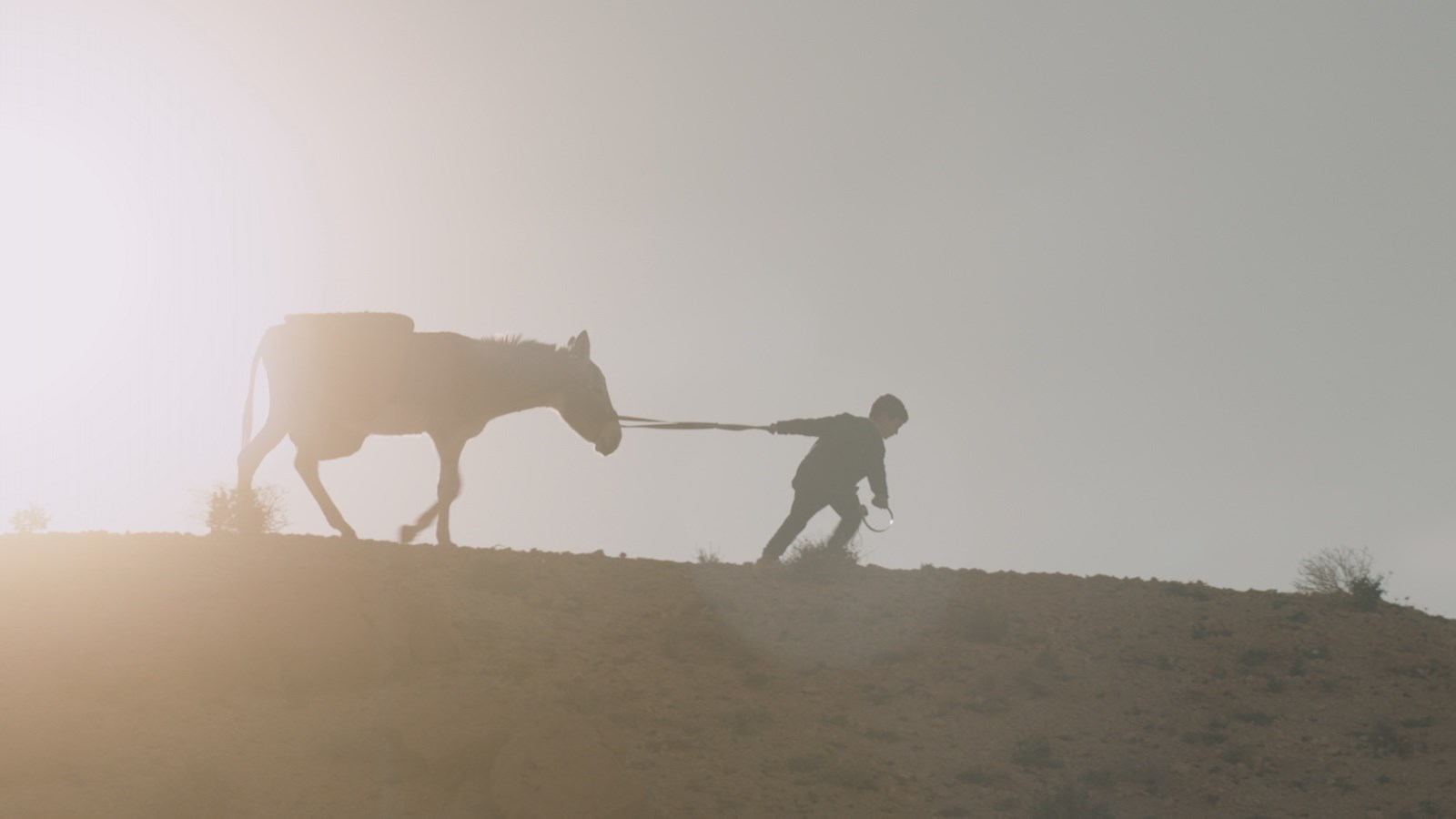 The lone comic short, but with more than enough levity to make the stakes very high, directors Yves Piat and Damien Megherbi have done something very challenging. And that is to meld together two different worlds and plots (one taking place in Algeria and the other in Tunisia), and not only informing us everything we need to know about the context of each story, but ensuring our interest in the bilateral storylines. This is thanks to Piat's tight script, and the excellent work of editor, Jerome Breau. But, more importantly, it is a film that delivers on its premise in a beautiful way without being corny or obvious. In fact, I actually verbally exclaimed something during its conclusion. Fortunately, I was watching at home.
The two boys who make up the Tunisian side of the film, Eltayef Dhaoui, and especially Mohamed Ali Ayari (who reminded me so much of the young Salvatore from "Cinema Paradiso"), are terrific. Their relationship is grounded in the kind of annoyance only siblings at that age can possess. Likewise, the two schlimazels in Algeria, Lyes Salem and Hichem Mesbah are perfect as a modern-day Abbott and Costello. And proper due must be made to the mule – who is not credited(!). And, as ever for these nominated short films, the director must heavily rely on photography, which, in this instance, is beautiful throughout thanks to Valentin Vignet.
It must be said, a lighter or comic Oscar-nommed short that is any good is an extreme rarity. Most funny shorts selected for consideration are sickly sweet, or, worse, insipid. And somehow these lesser films usually win…mostly because they challenge the voter far less then the others. Ironically,while Nefta is perhaps the best of the comic shorts I've seen, it appears to have no shot of winning. Maybe because it actually DOES ask questions of the viewer. Regardless, and even though I would place it fourth in my estimation, it is a film whose seventeen minutes I highly recommend.
Available on YouTube and Vimeo.
---
The Neighbor's Window (U.S.)
Directed by Marhsall Curry
Probably my favorite of the bunch, if perhaps not the best made, "Window" is a New York City grass-is-always-greener tale, illustrating the effects of a family life that seems mundane, repetitive and boring in relation to the other. Voyeuristic, hopeful, infuriating and tragic, it manages to pack a lot in to its twenty minutes. It is also the lone American offering, and, as a result, I'm sure we'll tend to relate to it better than the others. Plus, being a former New Yorker, I exist squarely in the heart of the film's demographic. Nonetheless, it is a very well conceived and executed film. Some of the performances are a little too actor-y, and the dialogue occasionally verges in to "This Is Us" soap. Regardless, Maria Dizzia (mom) and Juliana Canfield (the neighbor), are terrific. Not much else to say without spoiling. Give it a watch.
Available on Vimeo.
---
Saria (U.S./Guatemala)
Directed by Bryan Buckley
The least successful film of the bunch, "Saria" is nonetheless one of the most affecting. Revolving around the plight of young women imprisoned in a Guatemalan orphanage and the events that led to a horrific historical episode. I can't exactly put my finger on why it doesn't pack the punch it should. I only know that it doesn't. Perhaps Buckley's heavy directorial touch, when perhaps the more difficult decision to let the script do the work, is to blame. Or that the film uses totally inexperienced actors as its leads (the entire cast is almost completely made up of residents from a different Guatemalan orphanage).
Regardless, the story will demolish you, since the feelings Buckley hopes to pull out of you are certainly present by the film's end. Well intentioned and horrifying, that it doesn't quite match up to the other four, ultimately, doesn't matter at all. It's well worth seeking out.
Currently not available to stream. Trailer here.
---
A Sister (Belgium)
Directed by Delphine Girard
Following in the footsteps of one of my all-time favorite shorts (2013's "Just Before Losing Everything" – available on iTunes for $1.99), "A Sister" is a heart-pounding procedural whose entire universe revolves round a 911 operator and a cell phone. It is an intimate, difficult, and ultimately very successful film. Selma Alaoui does more with her face and voice in just a few minutes of screen time than most actors can do in an entire feature. And Veerle Baetens is the perfect mix of calm, doubt, fear and expertise. Without the performances of these two, Girard would have a very mediocre film with a great premise. But they elevate it well beyond mediocrity and in to something special. And the expert use of framing and photography in a closed and dark space makes it all the more tense, and that comes down to cinematographer Juliette Van Dormael
Currently not available to stream. Teaser/trailer here (the first 90 seconds of the film…no spoilers).
---
So how would I vote?
The Neighbors' Window
Brotherhood
A Sister
Nefta Football Club
Saria
But the gap between one through five is very tight and if you asked me tomorrow, I could easily give you a different order.